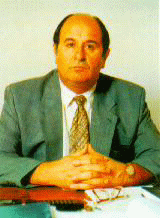 Georgia is the country of ancient civilization.
It is the country which has given mankind a combination
of great cultures, formed from a synthesis of East and
West. Georgia's great civilization is represented
symbolically by the Golden Fleece of ancient times. The
wisdom of Georgian civilization is reflected in the mythology
of the Argonauts, which notes that the Golden Fleece and Graal,
the philosophical stone of later centuries, are one and the same.
The quest of Graal reflects both the quest for physical gold and
for spiritual wisdom. Beyond this lies the knowledge of gold
mining technology. The might of Georgian technological thinking
in the field of iron extraction during the ancient era is confirmed
by the phenomena of Khalibs and Khaliboba.

These ancient phenomena reflect the traditional power of
technological thinking in Georgia, a power which shone through
in later centuries. The light of our thinking is especially brilliant now,
in the modern era. Technology and science have been and always
will be subjects of special interest for humanity.

That's why these fields of human activity will never be limited
by national peculiarities, national borders, or ethnic boundaries.
Just as technology goes beyond national limits, so too does the
communication of technological knowledge. This knowledge links
mankind by means of transportation and power engineering, to
name a few. Not only is technological and scientific knowledge
directly related to the advancement of civilization, it is an
indispensable element thereof.

We sincerely hope that the youth entering our University will
have fruitful labors, great creativity and tremendous success.


Ramaz Khurodze
Rector of GTU, Professor

History and Background

Georgian Higher Technological School dates back to 1922 when
Polytechnic Faculty was set up at Tbilisi State University. On
January 16, 1922 the Faculty staff held a meeting which was
welcomed by the University Chancellor, Professor Ivane Javakhishvili.

In his historical speech he congratulated the audience on the occasion
of foundation of technical education system.

On May, 1922 Professor A. Didebulidze was elected dean of
Polytechnic Faculty. Three departments opened: Civil Engineering,
Mechanical Engineering and Mining.

6 years later Georgia saw first native graduate engineers. In
October, 1928 the departments of the Faculty merged into an
independent institute - Georgian Polytechnic Institute, with three
departments: Civil Engineering, Chemical and Mining Engineering,
Electro-Mechanical Engineering.

Then Higher Education Minister D. Kandelaki was nominated
Chancellor of the Institute, N. Muskhelishvili - Vice Chancellor
on Education and Research. The Departments were headed by the
prominent Georgian scientists and Researchers.

Due to reform and restructuring of higher education system in
Country, in 1930 the following institutes were founded: Georgian
Engineering Institute, Transcaucasian Power Engineering Institute,
Transcaucasian Institute of Chemical Technology,
Transcaucasian Institute of Engineering, Transcaucasian Institute
of Land Reclamation.

On the strength of similarity of adjacent specialities, 2 years later,
there started the amalgamation of Higher Educational schools.
Hence, Transcaucasian Institute of Industry was founded in 1933.
In 1936 it was renamed Georgian Institute of Industry. In 1959 it
was again renamed Georgian Polytechnic Institute.

Throughout its existence Georgian Polytechnic has trained more
then 100,000 engineers in different fields of industry.

In January 1990 Georgian Polytechnic was made Georgian
Technical University. The major objective of the University's
activities is to shape not only national, but also international
technical highly skilled specialists and engineers.